Alright, first and foremost, head over to Night Owl Crafting to get your questions, and the cute little owl button thing!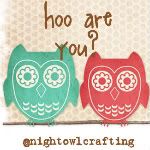 1. How many times a year do you get your hair cut?
Trimmed, a couple, a cut.... a couple. Whenever my amazing friend Sarah gets bored, I get a tweak to my hair style. She's even done the chop chop for me once or twice, but I"m growing it out now.
2. Where is the worst place to be stuck waiting?
That all depends. I don't mind waiting because I like talking to strangers. I know, I'm bizarre like that. I just hate waiting when one of my kids (or momma!) needs to go potty!
3. What are your favorite pizza toppings?
Remember how I told you I was wierd? Yeah, this is one of those things. I LOVE pizza. But I HATE pepperoni!! Hate it, hate it! I do love green peppers, mushrooms, warm tomatoes, garlic chicken, and pretty much any veggie. Heck pretty much anything except for pepperoni!
4. What's your favorite thing about where you live?
I love that it's small town. JUST had this discussion with a friend this morning. Tooele certainly has its bizarre quirks, but- I love that is' only 45 min from Salt Lake, but seems so much farther in lifestyle. Not so much hustle and bustle. I also love that it's MINE. Nobody else in my family ever has lived out here, and probably ever will.
5. What's your favorite fruit? Veggie?
I love nectarines. Sweet yumminess of a peach w/out the fuzz. I also love raspberries. I remember when I was little, we had a rasperry bush and my dad and I would pick raspberries for our cereal every morning. Veggie- I LOOOOOVE sweet potatoes! Yum, yum, yum! Sweet potatoes baked in the oven w/ butter and brown sugar. Sweet potato waffles. Sweet potato fries. I <3 Sweet Potatoes.